Spider Farmer SE5000 Dimmable Full Spectrum LED Grow Light
Categoria: ILLUMINAZIONE LED
Produttore: SPIDER FARMER

MASSIMA UNIFORMITÀ ED EFFICIENZA: le barre a 6 LED dal design esclusivo forniscono una copertura più uniforme. Con i diodi SAMSUNG LM301 da 2016 pezzi, le luci di coltivazione a LED SE5000 assorbono 480 watt con 1317,4 umol / s, raggiungendo un DPI impressionante di 2,75 umol / J, copertura per 120x120cm di crescita a ciclo completo ad alto rendimento.
SPETTRO COMPLETO MIGLIORATO E DIMMERABILE: lo spettro completo (2800-3000K, 4800-5000k, 380-410nm, 650-665nm) è perfetto per la fioritura della verdura, per adattarsi a ogni fase del ciclo della pianta. La manopola dimmer è ideale per regolare l'intensità della luce in base alle diverse fasi di crescita.
DRIVER PASSIVAMENTE RAFFREDDATO E RIMOVIBILE: il design leggero della barra e il materiale in alluminio sul retro contribuiscono a un migliore flusso d'aria e una grande dissipazione del calore. SE5000 lampade da Coltivazione viene fornito con un driver staccabile e un cavo di alimentazione lungo, riducendo così il calore ambientale nel tuo spazio in crescita per una maggiore durata. Con il bordo del circuito impermeabile, non preoccuparti dell'ambiente umido. Installazione facile.
DAISY-CHAIN DIMMING: La funzione daisy-chain consente di collegare fino a 15 luci LED SE5000 in crescita – attenuando più luci contemporaneamente. Ampiamente applicato nella coltivazione commerciale (orizzontale e verticale), nelle stanze climatiche, nell'orto domestico, nella coltivazione domestica (growbox e tende), nella coltivazione in serra, nella coltivazione di condutture, nell'idroponica.
RAPPORTO QUALITÀ / PREZZO: SPIDER FARMER LED Lampade da Coltivazione fornisce 5 anni di assistenza post-vendita presso un centro di manutenzione locale (USA / CA / Regno Unito / Germania). Assicurati di acquistare le autentiche luci da coltivazione Spider Farmer, puoi davvero darti bisogno di luci da coltivazione di alta qualità – a un prezzo accessibile. Per qualsiasi domanda, non esitare a inviarci un'e-mail e ti aiuteremo a risolverlo. Qualità sostenuta dalla nostra corazzata !!!
Model Number: SE5000
Light Souce: LED
Spectrum: 380-410nm,660-665nm,730-740nm,2800-3000K,4800-5000K
Par Value: 1317.4umol/S
Lumen:84611Lm±5%@AC120V 83934.31Lm±5%@AC240V 83263.83Lm±5%@AC277V
Power draw: :480W±5%
Input Voltage: AC100-277V
Amp: 3.987A@AC120V 2.0009A@AC240V 1.752A@AC277V
Frequency: 50/60HZ
Working Temperature: -20-35℃
The Total Amount of LED: 2016Pcs
Noise Value: 0dB
Core Coverage: 3*3FT(Commercial Flower)
Max Coverage: 4*4FT(Personal Flower)
Light Size:  875*862*94MM
Package Size: :915*335*230MM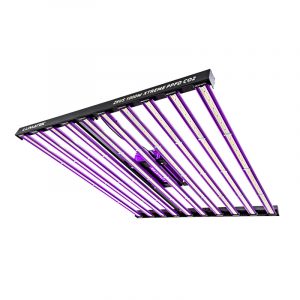 Quickview
ILLUMINAZIONE LED
La potenza ha appena raggiunto un nuovo livello nell'illuminazione a LED. Lumatek presenta ai coltivatori la luce da coltivazione più potente sul mercato, la Zeus 1000W Xtreme PPFD...
€

2,199.00 IVA INCLUSA