OLIO CBG 15ml – SENSITIVA
€19.00 – €75.00 IVA INCLUSA
Olio CBG di Sensitiva. Confezione da 15ml con comodo contagocce con concentrazione variabile di CBD. Estratto di CBG in olio CMT, sicuro, non contiene pesticidi, metalli pesanti vegan, gluten free.
The best CBG Oil. Try Sensitiva, with oils ranging from a 2.5% to a 10% CBG concentration!
Sensitiva Oil 1500 mg CBG 10% | 15 ML | THC FREE
Sensitiva Oil 750 mg CBG 5% | 15 ML | THC FREE
Sensitiva Oil 375 mg CBG 2.5% | 15 ML | THC FREE
L'olio al CBG Sensitiva è un prodotto composto da Cristalli di Cannabigerolo (CBG) estratti dalle foglie di canapa mediante tecnologia CO2 supercritica, miscelati ad olio di cocco frazionato MCT.
Gli ingredienti di questo prodotto sono puri e naturali. Al fine di fornire al cliente un prodotto sicuro e di massima qualità, le componenti
principali sono state sottoposte ad analisi e tutto il processo produttivo è stato controllato in ogni sua fase.
Tutti gli oli Sensitiva sono incolore, inodore e insapore.
Proprietà:
Il CBG ha mostrato di alleviare la pressione endoculare nel glaucoma e può essere usato per il trattamento delle malattie croniche intestinali.
L'olio al CBG Sensitiva può aiutare alla regolazione di meccanismi antinfiammatori.
Ingredienti:
CBG, Olio certificato alimentare MCT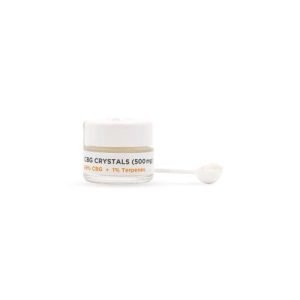 CBD, CBG & CBN, ESTRATTI, ENECTA
I cristalli al CBG sono una novità imperdibile Ottenuti dall'estrazione di uno dei cannabinoidi non psicoattivi più rivoluzionari presenti nelle piante di canapa sativa; i cristalli di CBG sono puri al 99%. Si tratta di un fitocannabinoide molto speciale, responsabile della sintesi di tutti gli altri cannabinoidi, compresi CBD e THC. A differenza di quest'ultimo, non ha alcun effetto drogante o psicoattivo, ma solo effetti benefici, di recente emersi dalle ricerche di numerose comunità scientifiche. Questo tipo di estratto è perfetto per essere vaporizzato, ma può essere anche diluito in una bevanda,in un cibo o per via sublinguale per godere delle numerose proprietà del cannabigerolo. I cristalli di CBG Enecta sono un prodotto naturale, estratto dalle migliori piante italiane provenienti solo da coltivazioni biologiche, che non utilizzano pesticidi e additivi chimici. Il processo di estrazione viene monitorato in ogni sua fase e il prodotto finale testato in laboratori specializzati che ne garantiscono la qualità e la sicurezza. Contenuto: 99% Cristalli CBG 1% terpeni Peso: 0,5 gr
€

20.90 IVA INCLUSA